 Open Your Dream Spa Franchise with C3 Wellness Spa
Let C3 Wellness guide you to success with our proven business model for the global wellness industry
Starting your own business from scratch is a daunting task. Industry data on startups from the Bureau of Labor Statistics show that 20% of new businesses fail within the first two years, 45% of new business startups don't survive the fifth year, and 65% of new startups fail during the first 10 years. That's cause for concern when it comes to running your own business.
That's why we're here to help! Starting your holistic wellness business with C3 means you get access to our extensive experience in the global wellness industry. We have tried and tested tools and processes that will help you find success, so you can build a business that stands the test of time. 
If it's been your dream to start your own spa, this is your sign to get in touch with us today!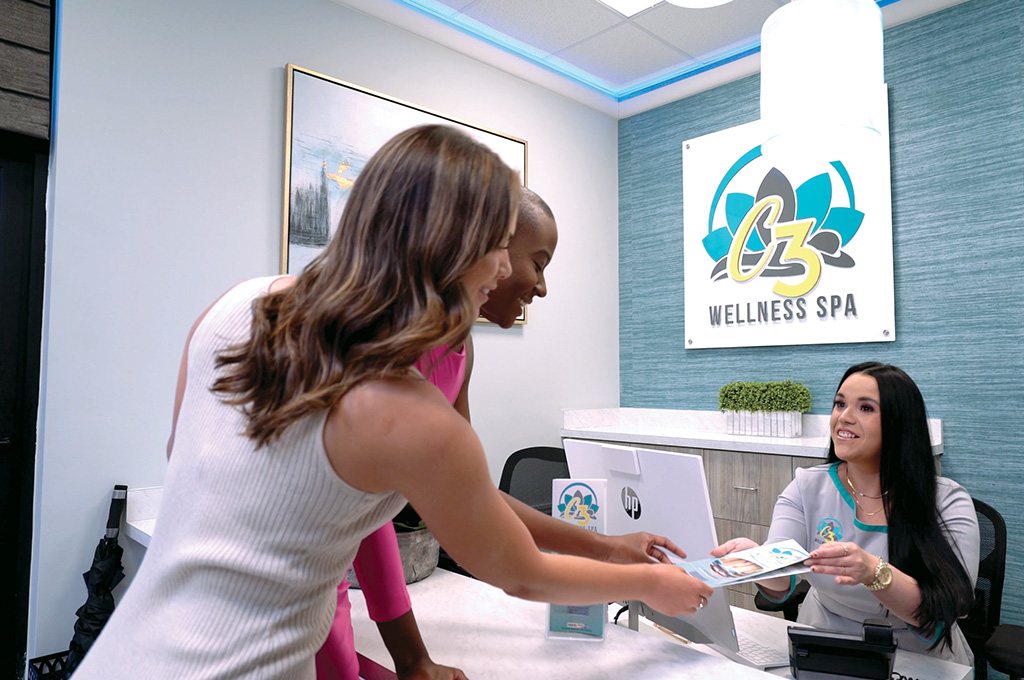 The C3 Promise to Franchisees
From our beginnings as Riviera Spa Massage to finding financial success, we've created a business plan that will let our franchisees create their own success stories around the country. Our brand and values all align to provide Complete Comprehensive Care to our communities.
Our team of professionals is ready to support our spa franchise owners with onboarding, training, business coaching, development, marketing, and more. We work hard to achieve franchisee satisfaction by providing thorough training and assistance designed for the wellness industry.
C3 Wellness Provides Options to be More Than a Spa
We're proud to provide our franchisees with multiple revenue streams to tap into the expanding global wellness industry. 
Our franchise model not only supports you, but also caters to your clients. By presenting a diverse offering, your business will continue to thrive.

Med Spa

Spa services such as facials and massages have become synonymous with self-care. Services such as injectables, microdermabrasion, and body contouring continue to increase in popularity. 

Physical Therapy

Increase your spa offerings by taking physical health to the next level. Not only will you be running a business that helps clients restore bodily function and complete daily tasks, but you'll see a steady revenue stream with our tried-and-true business models.

Acupuncture

Offer your customers the age-old traditional Chinese medicine healing practice! More than 3 million Americans use acupuncture, making it one of the most popular alternative medicine practices today.

IV Therapy

Help your community live a happy and healthy lifestyle. IV Infusions and Therapy infuse a liter of fluids with essential vitamins, nutrients, minerals, and amino acids that go far beyond water alone.

Hot Yoga

The popularity of yoga

continues to grow over the years. In the ten years between 2010 and 2021, yoga grew in popularity by 63.8%. As of May 2023, there are currently around 7,000 yoga studios in the US and 100,000 yoga teachers registered with the Yoga Alliance.
Don't want to jump into offering every service right away? Our franchise business model allows you to start at your own pace, offering the basics like massages and facials. Then, you can expand into our other services when you're ready!
Start Your Dream Spa Today with C3 Wellness - We're Ready to Help!
Bring first-class treatment to your community. Reach out to us today to learn how you can become a luxury spa franchise owner with C3 Wellness Spa.